Asparagus "en petit pois"
A recipe from
cooking-ez.com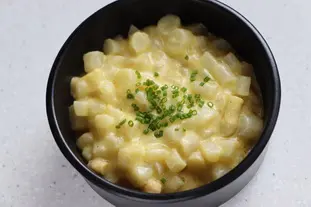 For 4 people, you will need:
Times:
| Preparation | Cooking | Start to finish |
| --- | --- | --- |
| 31 min. | 11 min. | 42 min. |
Step by step recipe
1
Prepare and cook 800 g asparagus in a large pan of salted water until barely tender, but still slightly firm. Do not overcook.

If they are too long, cut them in half.
2
Drain, cool under running cold water, then drain again.
3
Cut the asparagus into small pieces the size of peas (obviously).
4
Prepare all the asparagus like this, transferring the cut pieces onto a cloth to dry.
5
Put a large saucepan on medium heat and melt 30 g butter.

When hot, add the asparagus, salt, pepper and mix well.
6
Add 100 ml Vegetable stock and leave to simmer until the stock had almost completely evaporated.
7
Add i100 ml liquid cream and 2 egg yolks. Mix well.
8
Leave on low heat to thicken gently.
9
Serve in small individual dishes.
Remarks
You can use chicken stock instead of the vegetable stock.
This recipe takes its inspiration from Jean-Claude Brisville's play "Le Souper " (The Supper), which shows a supper – possibly imagined – shared by Fouché (Napoleon's chief of police) and Talleyrand (Napoleon's crafty chief diplomat) on the eve of the restoration of the Bourbon monarchy in 1815.
Talleyrand is hosting in sumptuous style, his personal cook Antonin Carème is in the kitchen, and among the dishes on the menu is "Asperges en petits pois", for which he gives Fouché the recipe, saying it comes from a certain Monsieur de Cussy (Chief Steward of the imperial household under Napoleon, then under Louis XVIII).
It's a terrific historical drama (you can watch an
extract here
and test your French!), which was later made into an excellent film.
---
December 6th 2023.