Avengers' potatoes
A recipe from
cooking-ez.com
291K
4.0
February 21
th
2011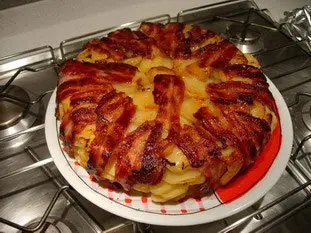 For 6 people, you will need:
Times:
| Preparation | Cooking | Start to finish |
| --- | --- | --- |
| 1 hour | 54 min. | 1 hour 54 min. |
Step by step recipe
1
Wash and peel 1 kg 500 g potatoes, cut into even medium sized slices
2
Put the potato slices in a pan, cover with water, salt and bring to boil.

As soon as it boils, remove from heat and drain in strainer.

Set aside.

Preheat oven to 390°F (200°C).
3
In a large pan that can be used both on the hob and in the oven (with metal or removable handle), melt 1 tablespoon goose fat (or butter).
4
As soon as fat is melted, remove pan from heat, and lay 200 g belly (streaky) bacon slices in bottom (bacon should be as thin as possible).

Make a kind of rose-window shape, radiating from centre...
5
...all round up and over the sides.

No matter if some slices overlap others a little, especially in centre, ideally you should no longer be able to see the bottom of the pan .
6
Put one third of potatoes onto bacon, salt, pepper and add half grated cheese.
7
Make another potato layer, add rest of cheese and a final layer of potatoes.
8
Fold bacon slices over on top.
9
Put the pan on high heat for 2 or 3 minutes, to start cooking and brown bacon.
10
Put in the oven for about 40 minutes, until potatoes are soft.
11
Turn out by inverting pan onto a dish or a big plate.

Serve if possible with green salad and a good French dressing (vinaigrette).
Remarks
This is a very approximate recipe, don't hesitate to change all ingredients to your taste: a bit more of this, a bit less of that will pose no problem.
The strange name "avenger's potatoes"? Oh yes, here's the reason: it came from another recipe by famous French chef Joel Robuchon called "pommes des vendangeurs" (grape-pickers' potatoes). When we made it for the first time, my elder son Jeremy was 10 and he loved it (like all the family) and asked for more "avengers' potatoes" because that was what he'd understood by this new word. Of course, it's easier to understand the confusion in French, because the words "avengers" (vengeurs) and "grape-pickers" (vendangeurs) are quite similar. Anyway we kept the name for this (now) traditional family recipe.
---
December 6th 2023.