Meringues
A recipe from
cooking-ez.com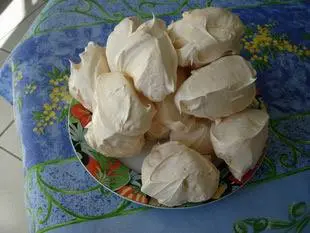 For 15 Meringues, you will need:
Times:
| Preparation | Cooking | Start to finish |
| --- | --- | --- |
| 17 min. | 4 hours | 4 hours 17 min. |
Step by step recipe
1
Begin by putting 3 egg whites in a bowl, if you no longer remember how many you have, weigh: an egg-white weighs about 30 grammes.

Then weigh 150 g caster sugar (50 grammes per egg-white needed), to use later for making meringues.
2
Beat egg- whites.
3
After about 2 minutes, add 2 tbs of caster sugar from 150 g caster sugar.
4
Continue beating until egg whites are firm.

A very old knack to know if egg white are beaten sufficiently: you can put a whole egg onto them and it will stay on the surface.

Another old saying: " egg whites are never beaten enough ".
5
And while still beating, incorporate the remaining sugar tablespoon by tablespoon.
6
You will get a very bright white mixture.
7
Put mixture in small heaps on a non-stick baking sheet (with 2 tablespoons for example).

Then put in the oven at 100°C or 212°F for 4 - 6 hours or better, overnight.

If you cook in a wood-fired oven, cook overnight.

Note: You can decorate meringues before baking by sprinkling them with flaked almonds, and/or with a pinch of cocoa powder.
8
After cooking, place hot on a rack to cool.

Keep in an airtight tin.
Remarks
This kind of meringue is also called "French meringue" or "raw meringue", which is different from
Italian or Swiss meringue
.
Keep in mind that meringues must dry rather than cook: a cool oven and a long cooking time is needed, if you want to make very white meringues like in bakeries. The quicker and hotter the cooking, the browner they will be.
You can also use a
forcing bag
to make more evenly or decoratively shaped meringues.
Caster sugar or icing sugar make no difference.
---
December 6th 2023.