Pancake batter
A recipe from
cooking-ez.com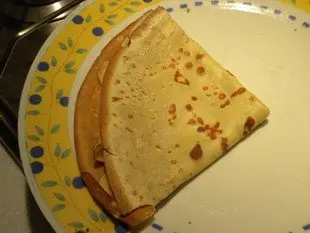 For 20 pancakes, you will need:
Times:
Step by step recipe
1
Put into a blender goblet: 6 eggs, 60 g oil, 60 g caster sugar, 500 ml milk, 2 tablespoons rum and 1 pinch salt.
2
Pour in 80 g Noisette butter
3
Then add 250 g flour.

Note: it is important to begin by pouring in the liquids to avoid forcing the blender motor.
4
Mix on medium speed...
5
...until the batter is evenly mixed.
6
Your pancake batter is ready for use.
Remarks
If you do not have a blender, you can use a
whisk
.
You will find plenty of recipes that tell you to leave the batter to rest, but having tried both ways (resting / not resting), I have not found that it makes any difference.
A variation worth trying: replace half the flour with
chestnut flour
.
---
October 30th 2020.