Involtini-Style Filet Mignon
A recipe from
cooking-ez.com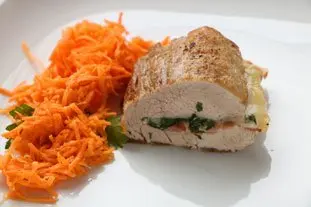 For 4 people, you will need:
0

4 slices belly (streaky) bacon

1

1 tablespoon olive oil

2

750 g filet mignon (pork loin)

3

parsley

4

cheese

5

salt

6

pepper
Total weight: 885 grams
Times:
| Preparation | Cooking | Start to finish |
| --- | --- | --- |
| 8 min. | 44 min. | 52 min. |
Step by step recipe
1
Grill 4 slices belly (streaky) bacon (thinly sliced) in the oven at 390°F (200°C), for about 20 minutes until nicely browned and leave the oven on afterwards.

Set aside.
2
Heat 1 tablespoon olive oil in a frying pan on high heat.

When really hot, add the filet mignon (after seasoning with salt and pepper) and fry briefly until browned all over.
3
Take the filet mignon out of the frying pan and split open by slicing across the middle, but do not cut right through the far side.
4
Fill with strips of bacon...
5
...some chopped parsley and thin shavings of cheese.
6
Fold the meat back over the filling and tie firmly in place with string to avoid it opening up during cooking.
7
Put in the oven on a roasting dish, baking tray or even in the pan, if this can go in the oven.
8
Cook for about 20 to 25 minutes.
9
Undo the string, then serve in thick slices with your choice of accompaniment.
Remarks
For the cheese, I reccommend Gruyère or, better still, Comté, but you can use whatever you prefer, of course.
---
October 22th 2021.