Lemon creams
A recipe from
cooking-ez.com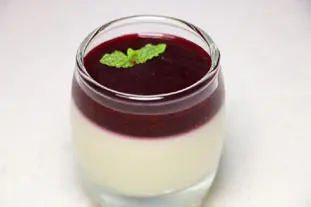 For 6 people, you will need:
Times:
| Preparation | Resting | Cooking | Start to finish |
| --- | --- | --- | --- |
| 1 min. | 30 min. | 10 min. | 41 min. |
Step by step recipe
1
Put 250 ml liquid cream and 80 g caster sugar into a small saucepan. Add the zest of 1 lemon and mix well.
2
Heat gently up to 176°F (80°C). A thermometer is useful for this, but if you don't have one, just be careful not to allow the cream to boil.
3
Take off the heat and add the lemon juice all at once.
4
Mix well - you should notice it thicken slightly - then leave at room temperature to cool for 30 minutes.
5
When it has cooled to room temperature,

divide the cream between the individual glasses. Stand these on a cloth laid on a baking sheet.

Cover with plastic film and refrigerate for at least 2 hours.

6
Just before serving, top with a thin layer of fruit coulis, such as blackcurrant.
7
Decorate with a sprig of mint, if you wish, and serve.
Remarks
The quantities given are for a small, accompanying dessert. If they will be the main dessert feature, it would be better to double the quantities and the size of the dish.
---
December 6th 2023.