How long does it take?
Time required
| Preparation | Start to finish |
| --- | --- |
| 25 min. | 25 min. |
Keeping:
Several days in the fridge, in a closed jar.
At what time?
When will I finish if I start the recipe at a certain time?
When should I start for the recipe to be ready at a certain time?
Work this out...
---
Step by step recipe
---
Stage 1 - 20 min.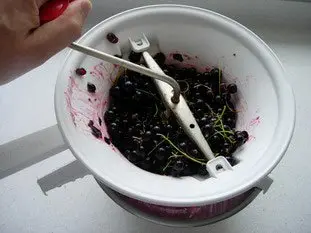 Wash blackcurrants quickly under running water, you should not soak them.

Drain carefully, then pour into a vegetable mill and turn.

Do this in stages.
---
Stage 2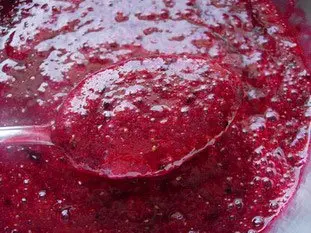 You will a get a puree which still contain skins and seeds.
---
Stage 3 - 5 min.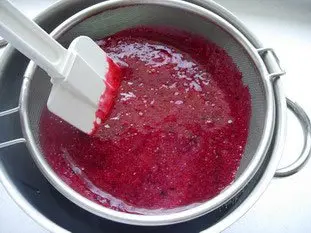 Pour this puree into a fine strainer, and push through using a
maryse
or soft spatula.
---
Stage 4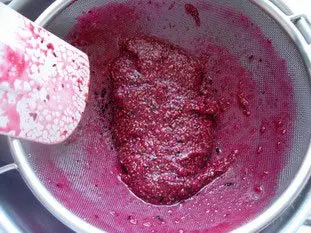 Continue in stages until only seeds remain in the strainer. Discard them.
---
Stage 5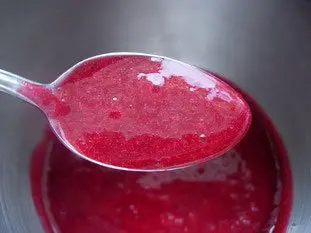 Your blackcurrant coulis is ready. You can use it now and add sugar, or freeze it.
Remarks
Unlike
other fruits
, blackcurrants should not be blended, because vegetable mills give better results.
If blackcurrants are very difficult to mill, you can soften them by putting in boiling water for 30 second then draining, this will break skins.
Nutritional information
% are calculated relative to a Recommended Dietary Intake or RDI of 2000 k-calories by day for a woman (change to a man).
Recipes which use this 4
Source
Home made
More recipes?
This recipe uses (among others)
News list of cooking-ez.com
Sign up to receive the latest recipes (next batch due to be sent on 2019-07-21)
Note: We'll never share your email with anyone else.
Follow this recipe (as 11 people already do)
If you are interested in this recipe, you can "follow" it, by entering your email address here. You will then receive a notification immediately each time the recipe is modified or a new comment is added. Please note that you will need to confirm this following.

Note: We'll never share your email with anyone else.