Armagnac marzipan
A recipe from
cooking-ez.com
19K
3.7
September 12
th
2018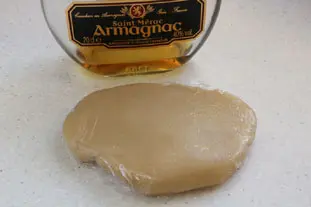 For 200 g, you will need:
Times:
Step by step recipe
1
Weigh out 100 g ground almonds and 100 g icing sugar. Pastry cooks call this proportion "equal parts".
2
Put this mixture into a food-mixer bowl and add 1 tablespoon Brandy (Cognac or Armagnac).
3
Start mixing and add the egg white a little at a time until the dough clumps into a ball (this only takes a few seconds).

Stop the mixer immediately so as not to overheat the marzipan.
4
Flatten the Armagnac marzipan into a "cake" and wrap with plastic film. Keep in the fridge until needsd.
Remarks
Feel free to adjust the quantity of Armagnac to suit your taste, either more or less.
You can vary this recipe by using another favourite alcohol from your own "cellar". It is worth noting that, traditionally, any marzipan that is not plain is left uncoloured.
---
October 22th 2021.