Craquelin (sweet cracker dough)
A recipe from
cooking-ez.com
51K
4.4
February 10
th
2019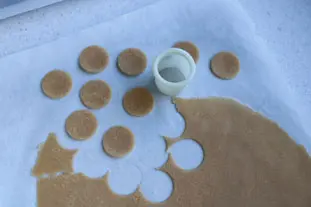 For 150 g, you will need:
Times:
| Preparation | Resting | Start to finish |
| --- | --- | --- |
| 24 min. | 30 min. | 54 min. |
Step by step recipe
1
Put into a mixer bowl: 50 g flour, 50 g brown sugar and 50 g butter, cut into small pieces.
2
Knead on medium speed until the dough is evenly mixed.
3
Gather the dough into a flat cake and pat this out with your hand on a sheet of plastic film and cooking papers (very important, as the craqulelin dough tends to stick easily).
4
Lay a second sheet of cooking parchment over the top, then roll out thinly with a rolling pin to about 1/8 of an inch (2 or 3 mm) maximum.

Refrigerate for at least 30 minutes.
5
After this time, lay the dough on the worktop and gently remove the top sheet of paper.

Dust the dough with a little flour.
6
Turn the dough over onto the floured side, then gently remove the other sheet of paper.

Your craquelin is now ready for cutting out.
7
Use cutters to cut out any shapes you want. Here I'm cutting small circles to use on choux puffs.
8
Sit a circle of caquelin on each mound of choux, put in the oven immediately and bake as usual.
9
When they come out of the oven, you will see how lovely and regular your choux puffs are when topped with craqulin.
Remarks
If you use softened butter, which has been out of the fridge for at least an hour, you will find the mixing at
stage 2
far easier and quicker.
This recipe does not call for salted butter, but it is fine to use it if that's all you have to hand.
---
October 22th 2021.