Fillet of salmon meunière
A recipe from
cooking-ez.com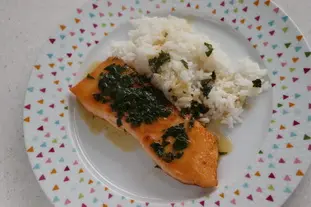 For 4 people, you will need:
Times:
| Preparation | Cooking | Start to finish |
| --- | --- | --- |
| 11 min. | 14 min. | 25 min. |
Step by step recipe
1: Trim 4 salmon fillets thoroughly. You should be left with just the flesh, so remove all the skin and any bones.
2: Salt the fillets then roll in flour. Gently shake off any excess.
3: Put a frying pan on medium heat. Melt 30 g butter and when really hot and frothing, add the salmon fillets.
4: Cook for 2 to 3 minutes on each side.
If you are unsure about judging when they are cooked, stick a thermometer into the thickest part and cook until it reaches 140°F (60°C).
5: When the fish is cooked, transfer to a hot plate and cover with aluminium foil to keep in the heat.
6: Keep the pan on the heat and add 30 g butter. Leave to melt and froth.
7: Add the juice of 1 lemon, leave to thicken slightly, then add the chopped parsley.
8: Serve the fillets drizzled with the lemony butter, and with plain white rice, for example.
Remarks
"Meunière" or "à la meunière"? No real difference. The name simply refers to the small amount of flour ("meunier" means miller in French) used to coat the fish.
---
June 19th 2021.