Mushroom duxelles
A recipe from
cooking-ez.com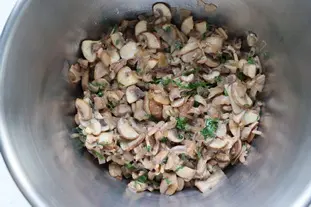 For 450 g, you will need:
Times:
| Preparation | Cooking | Start to finish |
| --- | --- | --- |
| 6 min. | 18 min. | 24 min. |
Step by step recipe
1: Prepare 500 g mushrooms, slice them and sprinkle them with the juice of ½ lemon and mix well.
Reserve.
3: Melt 30 g butter in a large pan. When good and hot, add the shallots.
Salt and pepper, then cook for 1 or 2 minutes without colouring.
4: Add the mushrooms, salt again and mix well.
Cover and cook for 1 minute.
5: Take the lid off and you will see that the mushrooms have given off a lot of liquid.
6: Cook until all the liquid has evaporated, stirring from time to time.
7: Take off the heat, add the chopped parsley and mix well.
8: Your mushroom duxelle is ready and can be used right away or kept in a sealed container in the fridge, or frozen.
Remarks
If you prefer a finer texture, chop the mushrooms very small (or mince) instead of slicing them.
This is a very old recipe, dating pack to the 17
th
century, invented in France by François Pierre de La Varenne, cook to the Marquis d'Uxelles, hence the name.
---
December 7th 2023.