Pear verbena tarts
A recipe from
cooking-ez.com
22K
3.6
November 22
th
2023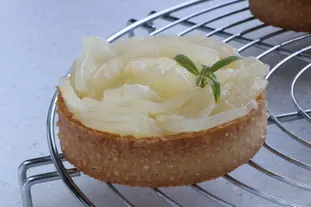 For 6 pieces, you will need:
Times:
Step by step recipe
1: Prepare 150 g Confectioner's custard (Crème pâtissière, or French pastry cream) using the normal method, but at the start leave a handful of verbena leaves to infuse in the milk (instead of the vanilla).
This will give you a verbena-flavoured custard.
Cover and leave to cool.
2: Cut 4 Poached pears into small pieces and drain carefully.
3: Prepare ing5.
4: And fold gently into the cooled verbena-flavoured custard. Beat for a few seconds by hand to "loosen".
This is now a verbena diplomat cream.
5: Transfer the cream to a forcing bag.
6: Pipe a generous layer of cream into each tart case.
7: Arrange a layer of pear slices on top...
8: ...ideally in the shape of a flower.
9: For a finishing touch, garnish with a sprig of verbena.
Your little pear verbena tarts are ready.
Remarks
For a quicker, simpler version of this recipe, use a classic sweetcrust pastry and a simple confectioner's custard (without added whipped cream).
If you have any leftover cream and fruit (which often happens, I assure you), make little verrines by layering the pears in small glasses with a generous topping of cream.
---
December 8th 2023.