Pistachio and goji pinwheels
A recipe from
cooking-ez.com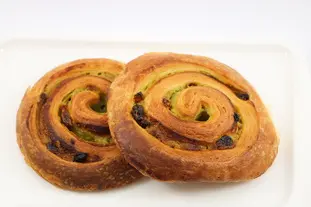 For 12 pieces, you will need:
Times:
| Preparation | Resting | Cooking | Start to finish |
| --- | --- | --- | --- |
| 24 min. | 1 hour 30 min. | 25 min. | 2 hours 19 min. |
Step by step recipe
1: You will need your 300 g Yeast-based flaky dough (for croissants) to be really cold. If it isn't, roll out roughly, then lay on a baking sheet and chill in the freezer for 10 minutes, or in the fridge for 30 minutes.
2: Roll out the dough into a large rectangle 18" x 10" (45 x 25 cm). Tip: Lay the dough on a plastic sheet to make the next stage easier.
3: Mark a line 2" (5 cm) in from the nearest short edge.
4: Use a rolling pin to thin out the edge part nearest you.
You will completely squash the dough, but don't worry, this will help when it comes to sealing up the roll later.
5: Spread 200 g Pistachio cream over the whole surface, apart from the thinned bottom edge.
6: Scatter 100 g goji berries over the cream filling.
7: Now comes the tricky part: you need to roll up the dough, starting from the furthest edge, into a neat cylinder.
If you have the dough on a plastic sheet, simply pull this towards you slightly to start the roll.
8: If you do this really carefully, you should end up with a tightly rolled and even cylinder.
Stop when you get to the line you marked.
9: Use a brush dipped in water to moisten the thinned edge of the dough.
10: Finish rolling the dough, sticking the moistened edge firmly, and lay the roll on a baking sheet, still in its plastic sheet if possible.
Chill in the freezer for 20 minutes, or the fridge for 45 minutes to make the roll easier to slice.
11: After chilling, use a serrated knife to cut the roll into slices about 1" (2.5 cm) thick.
12: Lay the slices on a baking sheet, well spaced out (they will swell during proving and baking), no more than 6 on a sheet.
13: This is not essential, but you can glaze the slices around the sides only, or this will hinder the rising in the oven.
Put somewhere hot to rest and rise for 1 hour.
14: Preheat the oven to 360°F (180°C).
Bake for 20 to 25 minutes, keeping an eye on the browning towards the end.
Leave to cool on a wire rack.
Remarks
As with many other pastries, these freeze very well for baking later: freeze the slices just after cutting.
For the classic "pain aux raisins", fill with confectioner's custard and raisins.
---
December 7th 2023.