Roast Brussels sprouts with sage and lemon
A recipe from
cooking-ez.com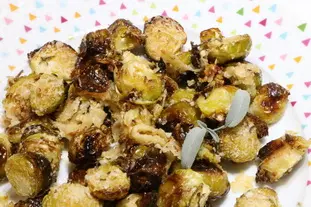 For 4 people, you will need:
Times:
| Preparation | Cooking | Start to finish |
| --- | --- | --- |
| 41 min. | 23 min. | 1 hour 4 min. |
Step by step recipe
1: Peel, trim, rinse and dry 1 kg Brussels sprouts. Cut in half lengthways.
2: Put into a bowl.
Preheat the oven to 410°F (210°C).
3: Finely shred the sage leaves.
4: Add to the bowl. Grate the zest of 1 lemon over.
Add 8 tablespoons olive oil, salt and pepper. Mix well.
5: Lay a sheet of cooking parchment on a baking sheet, then arrange the sprouts cut side upwards as far as possible.
Don't wash the bowl, as we'll use it again in stage 8.
6: Put in the oven for about 20 minutes until the sprouts are nicely browned.
Turn the baking sheet round halfway through cooking if necessary so that they colour evenly.
7: Meanwhile, grate 30 g Parmigiano reggiano (Parmesan) and set aside.
8: Also while the sprouts are roasting, squeeze the lemon juice and put in the bowl saved from earlier. Add 1 tablespoon olive oil, salt and pepper, then mix well.
9: Take the sprouts out of the oven (but leave it on) and brush with the lemon mixture.
10: Scatter the grated Parmesan over.
11: Put back in the oven for 2 or 3 minutes, just to melt the Parmesan.
12: Serve immediately.
Remarks
If you don't have Parmesan, you can use pecorino or another cheese you like.
---
June 9th 2023.