Strawberry brunoise in a dessert-wine sabayon
A recipe from
cooking-ez.com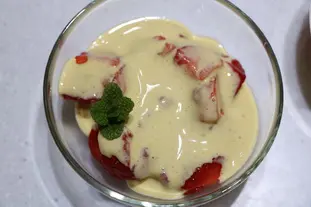 For 4 people, you will need:
0

500 g strawberries

1

½ lemon

2

6 tablespoons sweet white wine

3

400 g sabayon
Total weight: 1,055 grams
Times:
Step by step recipe
1: Prepare 500 g strawberries: remove the stalks and cut each one into 4 ("brunoise" means diced).
Put into a bowl and drizzle the juice of ½ lemon over, then mix.
Set aside.
2: Prepare 400 g sabayon with 6 tablespoons sweet white wine, then take off the bain-marie.
3: Divide the strawberries out into little individual dishes.
4: Pour a generous amount of sabayon over and serve immediately.
Remarks
You can use a fortified wine such as Macvin du Jura or Banyuls instead of the dessert wine.
Do choose your strawberries with care. They should be fully in season, of course, but use a slightly sharp variety if possible, such as gariguette, to balance the sweetness of the sabayon.
---
September 29th 2021.