How to cook rice in rice-cooker
A recipe from
cooking-ez.com
890K
2
3.0
February 21
th
2011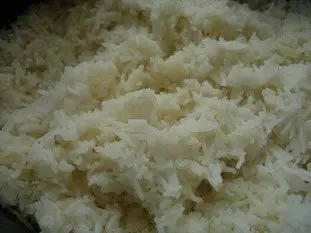 For 500 g, you will need:
Times:
| Preparation | Cooking | Start to finish |
| --- | --- | --- |
| 5 min. | 15 min. | 20 min. |
Step by step recipe
1: Tip 400 g rice into a strainer.
2: Wash rice by under tap for about 30 seconds.
3: Tip washed rice into rice-cooker.
4: Add 750 ml water and salt.
5: Switch on rice-cooker (the red "cooking" light should be on), and cover.
6: After 15 minutes you should hear a "click" and the "keep warn" light will come on.
7: Your rice is cooked.
8: Stir with a plastic spoon to prevent rice from sticking, and add a knob of butter if you wish.
9: If you don't want to serve rice straight away, leave covered but with rice-cooker switched off to prevent rice from drying out.
Remarks
Rice-cooker are usually sold with a measuring jug. If you use it always remember the correct proportion is 1.5 parts water to 1 part rice.
For tastier rice you can use chicken stock instead of water, or add a little chicken or meat cooking juice, or add a
chicken stock cube
to the water.
---
December 8th 2023.