"Au vert" beef
A recipe from
cooking-ez.com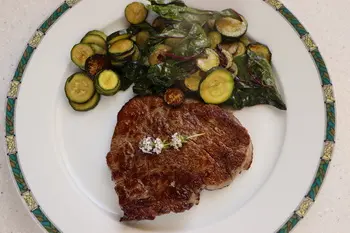 For 4 people, you will need:
Times:
| Preparation | Cooking | Start to finish |
| --- | --- | --- |
| 17 min. | 19 min. | 36 min. |
Step by step recipe
3: Toast 4 pieces steak of beef tenderloin in a very hot pan with 4 tablespoons oil, 1 bayleaf and 1 sprig thyme.
You can follow these (good) cooking tips.
4: Once the meats are cooked, remove to a warm plate and cover with aluminum foil to keep warm.
5: In the same pan, without cleaning it, over medium heat, add 1 knob butter and when melted add the shallot, salt and pepper.
Cook for 1 minute.
6: Add the zucchini and grill to taste.
Add salt at the end of cooking.
7: Push them to one side of the pan, then add 200 g turnip (or other vegetable) tops (here beet tops).
8: Gently stir the tops until they "fall off", i.e. reduce in volume.
9: At this point, mix the zucchinis with the tops, then check the seasoning.
10: Serve à l'assiette piece of beef, greens and a sprig of thyme to garnish.
Remarks
You can use any piece of beef you like for this recipe, but it's really best with a noble piece, tenderloin, ribeye, etc.
---
December 8th 2023.