Carbonnade
A recipe from
cooking-ez.com
187K
1
4.7
November 13
th
2011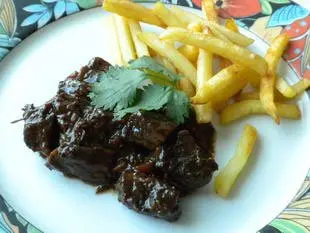 For 6 people, you will need:
Times:
| Preparation | Cooking | Start to finish |
| --- | --- | --- |
| 32 min. | 2 hours 12 min. | 2 hours 44 min. |
Step by step recipe
1: Cut 1 kg beef into large cubes.
4: Pour 5 tablespoons olive oil into a large heavy-based pan on high heat.
When hot, add the pieces of meat and fry until browned on each side (do not salt, as this will bring out the juices, which will stop them browning).
When browned, remove the meat from the pan and transfer to a plate to wait.
5: Use the same pan, which should now contain just a little fat, and fry the chopped onions with salt and pepper for 1 or 2 minutes, stirring from time to time.
7: Add the diced carrots.
8: Add 1 litre beer, then salt and pepper.
9: Turn the heat down to minimum and leave to simmer for about 2 hours...
10: ...until the beer has reduced to make a thick and tasty sauce. At the same time the meat will have become very well cooked tender.
Remarks
For the beer, I advise you to use a dark beer which will give stronger flavour.
In the so-called "Flemish" carbonnade, a little brown sugar or a slice of gingerbread spread with mustard is added to the dish. But, I don't feel that either is necessary.
For more flavour, you can add a
beef stock cube
.
Carbonnade is one of those dishes, like
boeuf bourguignon
for example, which is even better when it is reheated.
---
August 13th 2022.