Coq au vin
A recipe from
cooking-ez.com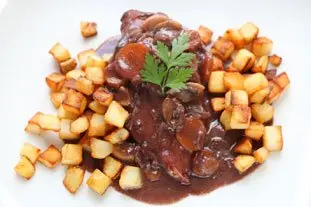 For 4 people, you will need:
Times:
| Preparation | Cooking | Start to finish |
| --- | --- | --- |
| 12 hours 32 min. | 2 hours 12 min. | 14 hours 44 min. |
Step by step recipe
1:

Prepare the marinade

Prepare 2 carrots and slice thinly. Prepare 2 shallots and slice these thinly, too.
Put the carrots and shallots into a bowl, salt and pepper, then add 1 Bouquet garni.
2: Add 750 g chicken breast, pour 750 ml red wine over, cover with a plate and leave in the fridge to marinate overnight.
3:

First-stage cooking of meat

Next day, drain the chicken breasts and dry on absorbant paper.
4: Heat 3 tablespoons olive oil in a large pan and fry the chicken breasts until browned all over. Do be aware, this is not to cook the chicken, just to give it a little colour. Set aside.
5:

Cook the vegetables

Drain the vegetables and discard the bouquet garni.
6: Put the vegetables into the same pan in what is left of the oil (add a little more if necessary) and cook for one or two minutes,.
7: Return the chicken to the pan and heat everything on high heat.
Pour in ½ glass Brandy (Cognac or Armagnac) all at once...
8: ...and set light to the cognac (flambé).
9: Once the flames are out, sprinkle 3 tablespoons flour over and mix in.
10: Pour in the wine from the marinade, salt and pepper, then turn down the heat and leave to simmer gently.
11:

Prepare the mushrooms

Meanwhile, peel 300 g mushrooms and cut into small pieces.
12: Fry rapidly in the pan with 2 tablespoons olive oil...
13: ...then add to the simmering pan.
14:

Second-stage cooking of meat

After cooking slowly for 2 hours, the wine will have reduced to give the coq au vin its delicious sauce.
Check the seasoning.
15: Serve the coq au vin with your preferred accompaniment, such as the sautéed potatoes shown here.
Remarks
If you want to make the real thing, use a whole cock (or rooster, for Americans) instead of the chicken breasts and ask your butcher to cut it into portions for you.
---
April 9th 2020.