Mexican-style pork medallions
A recipe from
cooking-ez.com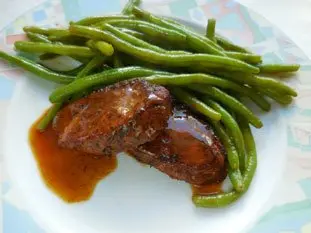 For 5 people, you will need:
Times:
| Preparation | Cooking | Start to finish |
| --- | --- | --- |
| 25 min. | 19 min. | 44 min. |
Step by step recipe
1: Cut 800 g filet mignon (pork loin) into medallions: fairly thick slices (3/4 inch or 1.5-2 cm) and cut slightly on the diagonal.
2: Prepare the marinade by mixing 5 tablespoons olive oil, 1 teaspoon chilli powder, 3 sprigs thyme and 1 bayleaf in a bowl.
3: Add the pork medallions and mix well.
Cover with plastic film and refrigerate for 1 hour or overnight.
4: Prepare and rinse 800 g green beans.
5: Cook in salted boiling water.
6: Drain the beans when cooked.
Set aside.
7: Pour 2 tablespoonsful of the marinade into a frying pan on medium heat. When hot, add the pork medallions.
Cook on both sodes.
8: When cooked, transfer the medallions to a hot plate and cover with aluminium foil. Keep hot.
9: Pour 300 ml Vegetable stock into the frying pan used for the meat and bring to the boil on high heat. Deglaze and add 2 tablespoons reduced veal stock.
Mix well and leave to reduce to a syrupy consistency.
10: Reheat the green beans in the sauce for a couple of minutes.
Heat the plates.
11: Arrange 1 or 2 mdeallions per person with the beans alongside and pour the sauce over.
Serve immediately.
Remarks
If you don't have vegetable stock to make the sauce, you can use dry white wine instead.
You can replace the veal stock with 1 oz (30 g) of cold butter. Cut this into small pieces and add to the sauce, beating it in with a
whisk
.
---
June 9th 2023.