Rabbit with mustard
A recipe from
cooking-ez.com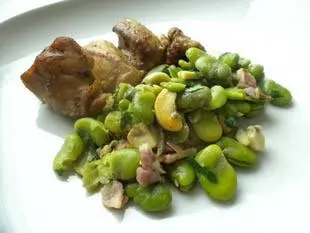 For 4 people, you will need:
Times:
| Preparation | Cooking | Start to finish |
| --- | --- | --- |
| 48 min. | 1 hour 21 min. | 2 hours 9 min. |
Step by step recipe
1: Bone the rabbit completely. Put the pieces of meat on one side, the bones on the other - but do not throw these way.
2: Salt and pepper the pieces of rabbit on each side, then coat liberally with French mustard (milder than the fiery English kind) using a brush. Finish with a sprinkling of thyme.
Preheat the oven to 160°C (330°F).
3: Pour 4 tablespoons olive oil into a large pan on high heat. When this is hot, add the pieces of rabbit.
Brown lightly on each side. Do this in batches if necessary.
4: Put the pieces of rabbit in an oven-proof dish covered with cooking film, and put in the oven for about 40 minutes.
5: Meanwhile, break the rabbit bones up roughly with a cleaver or heavy knife.
6: Put these into the same pan as you used for the meat and brown them, turning from time to time.
When they are nicely browned, pour in 4 glasses dry white wine, salt and pepper, deglaze, stir well and leave to reduce by half on low heat.
7: When the stock is well reduced, filter, discard the bones and keep the sauce hot.
8: Cook 500 g broad beans in salted boiling water until they are tender, then plunge them into very cold water and drain.
Set aside.
10: Pour 2 tablespoons olive oil into a large pan and when hot, add the shallot and cook for 1 minute.
Add the mushrooms and fry for 2 or 3 minutes. Stop as soon as they begin to give off liquid.
11: Drain and set aside.
12: Pour 2 tablespoons olive oil into the same pan and when hot, add 200 g small pieces of bacon cut in small pieces.
Cook until they are well fried.
13: Tip the broad beans and mushrooms into the pan, stir and reheat.
14: Serve the rabbit pieces beside the bean mixture and pour the sauce over.
Remarks
You can also thicken the sauce with a teaspoonful of cornflour, reheated gently while stirring constantly.
---
October 26th 2020.