Diplomat cream
A recipe from
cooking-ez.com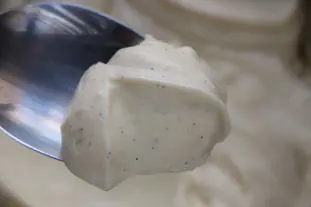 For 600 g, you will need:
Times:
| Preparation | Resting | Start to finish |
| --- | --- | --- |
| 42 min. | 1 hour 5 min. | 1 hour 47 min. |
Step by step recipe
1: Soak 2 sheets gelatin in cold water for 5 minutes to soften.
2: Prepare 350 g Confectioner's custard (Crème pâtissière, or French pastry cream) and at the end, when taken off the heat, add 30 g butter cut into small pieces. Mix well to incorporate.
3: Then add the drained and dried gelatin...
4: ...and mix thoroughly.
5: Cover with plastic film in contact with the surface of the custard to prevent it forming a skin.
Stand the pan in cold water to speed up cooling.
6: Meanwhile, prepare 200 g Chantilly cream and keep cold.
7: Once the confectioner's custard has cooled to room temperature, remove the plastic film and whisk vigorously to loosen it.
Fold in the whipped cream gently with a soft spatula.
8: Your diplomat cream is ready.
Remarks
Just like the basic confectioner's custard, you can vary diplomat cream to suit your own taste:
lemon
,
apple
,
pistachio
, chocolate, etc.
In many recipes, the original confectioner's custard can be replaced with diplomat cream, for a better, lighter result. But do be warned: it will not survive being recooked.
---
July 7th 2022.