Light herb sauce
A recipe from
cooking-ez.com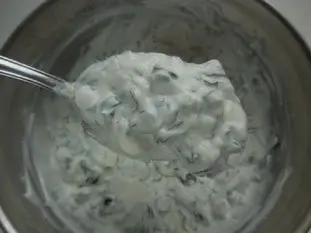 For 400 g, you will need:
Times:
Step by step recipe
1: Peel, rinse and chop 1 spring onion (scallion) finely.
Rinse, dry and chop parsley and coriander . The quantities are approximate: say 2-3 tablespoons of each.
Chop the chives finely, including the flowers if you can to add extra flavour and an attractive touch of colour.
2: Put the herbs into a bowl and add 350 g Greek yoghurt.
Otherwise, you can use cream cheese or unsweetened fromage frais.
3: Add 2 tablespoons Herb olive oil (or simply plain olive oil, if you don't have any) and the juice of ½ lemon.
Salt lightly and pepper generously.
4: Mix thoroughly, check the seasoning and it's ready.
Remarks
One interesting possibility with this sauce is the hot-cold contrast: piping-hot baked potatoes, split open with a spoonful of really cold sauce in the middle - simply delightful!
Make plenty at a time, as it is always popular.
---
January 19th 2021.