Stewed apple (compote)
A recipe from
cooking-ez.com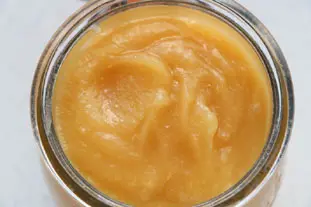 For 750 g, you will need:
Times:
| Preparation | Resting | Cooking | Start to finish |
| --- | --- | --- | --- |
| 33 min. | 30 min. | 10 min. | 1 hour 13 min. |
Step by step recipe
1: Peel 1 kg apple, cut into four and remove the core, then cut each quarter into small pieces, and put in a pan.
1st important note: It's important that apple pieces are small, and of regular size, so that they cook quickly and evenly.
2: Add 3 tablespoons caster sugar to apples, then 1 teaspoon Vanilla sugar, and pour in 4 tablespoons water and juice of ½ lemon.
2nd important note: Don't add too much water, only the minimum to produce a compote and not a soup.
3: Cover and put on low heat, until apples are just tender (approximately 10 minutes).
3rd important note: Cover the pan tightly, to conserve the small amount of water and prevent apples from burning.
4: Take off heat and remove lid.
4th important note: You don't need to cook a long time, the longer you cook, the more the fruit loose their vitamins.
5: Not absolutely needed, but if you like it smooth, Blend briefly to obtain desired consistency.
6: Leave to cool by placing bottom of pan in cold water for 30 minutes, and stirring from time to time.
7: Transfer to a jar or other sealed container, and keep in the fridge.
8: You can also watch this small video which summarize the recipe.
Remarks
The kind of apples used will strongly influence the taste and the texture of your compote, so choose good ones. In my opinion, the best compotes are made with slightly acidic apples like the "reinettes".
---
November 12th 2019.