Breton strawberry and verbena tart
A recipe from
cooking-ez.com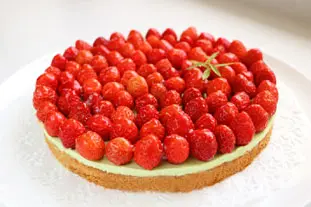 For 1 tart, you will need:
Times:
Preparation
1 hour 47 min.
Step by step recipe
1: Prepare the sablé base with 350 g Breton sablé biscuit dough, as explained here.
Leave to cool, then use a brush to coat the top with 50 g white chocolate, melted over a bain-marie. Leave to set.
This coating stops the crémeux topping soaking into the sablé base, helping it to stay crisp.
2: Sit the sablé base on a sheet of cooking parchment, laid on a baking sheet, and place a dessert ring over it.
3: Prepare a verbena crémeux, follwing the method for fruit crémeux, but replace the coulis with verbena-infused cream (heat the cream, then leave the verbena to infuse).
Pour on top of the sablé base.
Leave to set in the fridge for about an hour.
4: When the crémeux is set, sit the tart (still in its dessert ring) on its serving plate.
5: Arrange a layer of fresh strawberries on top. Use small ones if possible that do not need to be cut.
6: For a more attractive finish, glaze the top, using a brush, then remove the dessert ring.
7: Decorate with a sprig of verbena.
Refrigerate before serving.
Remarks
This trio of sablé-crémeux-fruit works very well and lends itself to many variations. Another great topping duo is lime with strawberries, or why not try lemon with raspberries?
---
June 9th 2023.