Chocolate cereal bars
A recipe from
cooking-ez.com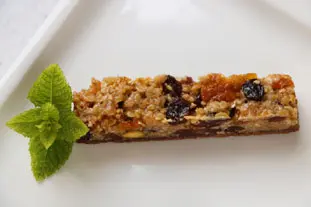 For 20 bars, you will need:
Times:
| Preparation | Cooking | Start to finish |
| --- | --- | --- |
| 25 min. | 53 min. | 1 hour 18 min. |
Step by step recipe
1:

Chocolate sweetcrust base

Preheat the oven to 340°F (170°C.)
Roll out 200 g Chocolate sweetcrust pastry.
Use an 8 inch (20 cm) patisserie square as your guide.
2: Cut the pastry to fit the square and lay on a baking sheet with the metal square over it.
Prick the pastry all over with a fork or pique-vite (pastry pricker).
3: Bake for about 15 minutes, then leave to cool with the square in place.
Do not turn the oven off.
4:

Nut, seed and fruit mixture

Weigh out 60 g pistachios and 20 g sesame seeds, then spread these on a baking sheet. Toast them in the oven for 10 minutes.
Take out of the oven and leave to cool.
Do not turn the oven off.
5: Cut 100 g dried apricots into small pieces.
Set aside.
6: Put into a bowl: the pistachios, sesame seeds, apricots, 100 g raisins and 120 g rolled oats.
7: Put 125 g butter and 125 g brown sugar into a saucepan on medium heat and bring to the boil while whisking.
8: Add the fruit, nut and seed mixture. Mix well.
Cook while stirring constantly for about 2 or 3 minutes.
9: Tip the mixture into the square over the chocolate sweetcrust base and spread evenly with the back of a tablespoon.
10:

Baking and cutting

Bake for about 20 minutes.
When cooked, take out of the oven and remove the metal square while hot (it's easier), then leave to cool.
11: Cut up with a serrated knife into bars about half an inch by 4 inches (1,5 x 10 cm).
Remarks
You can vary the fruit, nuts and seeds in this recipe. For example, use cranberries instead of apricots, or hazelnuts insted of pistachios. But it is best to stick with oats as the base.
---
December 8th 2023.