Flognarde
A recipe from
cooking-ez.com
40K
3.7
December 30
th
2019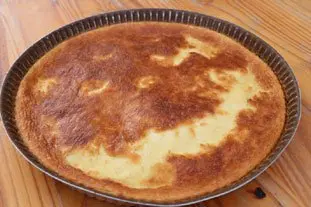 For 1 flognarde, you will need:
Times:
| Preparation | Cooking | Start to finish |
| --- | --- | --- |
| 12 min. | 35 min. | 47 min. |
Step by step recipe
1: Pour 750 ml milk into a saucepan on low heat.
Scrape 1 vanilla pod into the milk, add 1 vanilla pod zest and bring to the boil.
Take off the heat, cover and leave to infuse for 10 minutes.
2: Preheat the oven to 390°F (200°C).
Pour 3 eggs and 1 egg yolk into a blender goblet, then add 60 g caster sugar, 60 g flour and 1 pinch salt.
3: Blend on high speed until the mixture turns pale.
4: Reduce the speed slightly, then pour in the vanilla-flavoured milk.
Blend for a few seconds longer to mix.
5: Pour the mixture through a strainer.
6: Then pour into a tart tin or mould.
7: Top with slivers of butter and bake for 30 minutes.
8: Serve straight from the tin, as the flognarde will be very fragile.
Remarks
For a version with fruit, such as apples, sauté the peeled fruit in a little butter and sugar, then lay in the bottom of the tin or mould before adding the filling mixture.
For a nicely browned top, sprinkle the top of the flognarde with caster sugar after the first 10 minutes of cooking.
---
September 27th 2021.