Fresh fruit in sabayon
A recipe from
cooking-ez.com
271K
4.6
February 21
th
2011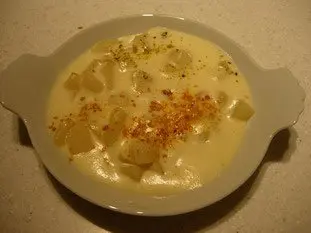 For 4 people, you will need:
Times:
Step by step recipe
1: Peel 2 grapefruits and arrange in small dishes.
2: Collect the grapefruit juice, strain, and use to make sabayon.
3: Just before serving, cover the grapefruits with sabayon, and sprinkle with a pinch of 4 pinches Citrus crunch.
4: If you use 4 Pears instead of 2 grapefruits, peel and cut them in quarters, discard the core.
Poach in a light syrup made with 300 ml water, 150 g caster sugar, and juice of ½ lemon, until soft (check by piercing with a knife).
5: Cut each quarter into small dice and drain thoroughly.
6: Put a layer of diced pear into dishes either alone, or on top of grapefruit segments.
7: To serve, cover the pears with sabayon, and sprinkle with a pinch of citrus crunch.
Remarks
This dessert is fairly quick, and the fruit can be prepared in advance, only the sabayon must be made at the last minute.
---
March 23th 2023.