Liège waffles
A recipe from
cooking-ez.com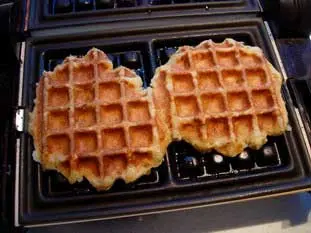 For 12 waffles, you will need:
Times:
| Preparation | Resting | Cooking | Start to finish |
| --- | --- | --- | --- |
| 22 min. | 1 hour 30 min. | 3 min. | 1 hour 55 min. |
Step by step recipe
1: Prepare 125 ml milk.
2: Put into a food processor bowl: 250 g flour, 1 egg, 10 g caster sugar, 10 g Vanilla sugar, 125 g butter, ½ teaspoon salt, ½ teaspoon Bicarbonate of (baking) soda and 20 g yeast.
3: Knead on slow speed and slowly pour in the milk.
Once evenly mixed, continue kneading on slow speed for a further 5 minutes.
Cover the bowl and leave to rest in a warm place for about 1 hour 30 minutes.
4: Heat the waffle iron.
Pour 150 g Pearl sugar onto the batter and mix well (you can do this with the food processor for 30 seconds).
Note: the sugar crystals are added at the last minute so that they don't dissolve. They add a little crunch to the inside of the waffle.
5: Make the waffles: pour a large spoonful of batter into each half of the lightly-oiled waffle iron and cook...
6: ... until the waffles are golden brown.
Remarks
To bring out the caramel flavour, you can dust the batter with a little caster sugar just before closing the waffle iron.
If you don't have sugar crystals, you can use granulated sugar or crushed sugar lumps (use a hammer).
As always with regional recipes I wish to stress an important point: this should not be taken as "the" Liège waffle recipe, but just one among many.
---
January 20th 2020.