Little apple turnovers with almonds and raisins
A recipe from
cooking-ez.com
286K
4.0
September 11
th
2018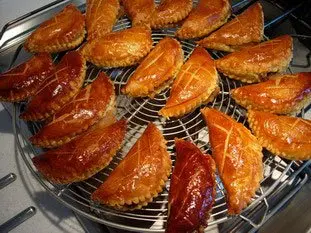 For 20 pieces, you will need:
Times:
| Preparation | Resting | Cooking | Start to finish |
| --- | --- | --- | --- |
| 1 hour 6 min. | 20 min. | 5 min. | 1 hour 31 min. |
Step by step recipe
1: Pour 50 g caster sugar into a non-stick frying pan, distribute it evenly over the whole surface, and put onto high heat.
2: After a while the sugar starts to melt...
3: ... and becomes caramel.
4: Then add 100 g flakeds almonds.
5: Turn down heat, and stir to coat almonds with caramel.
6: As soon as the almonds are well caramelized, remove from heat and tip them onto a baking sheet or a sheet of non-stick cooking parchment.
7: Leave to cool, then crush coarsely with a rolling pin.
8: Put 200 g Stewed apple (compote) in a small bowl.
9: Prepare 1 handful raisins.
10: Add raisins and almonds to stewed apples and mix well.
11: Spread out circle of puff pastry (or roll out thinly if in a block).
Preheat oven to 200°C or 392°F.
12: Cut out circles of 10 cm diameter approximately (minimum) and place on a baking sheet.
13: With a brush soaked in water, wet all round the edge of each pastry circle to help "weld" the join.
14: Put a teaspoon of the apple mixture onto each circle.
15: Then fold over each circle to form the turnover.
16: Press the edge to seal well.
17: Glaze each turnover.
18: You can, with the point of a knife, cut a small design on the top of the turnovers, it might not show much now, but will after cooking.
19: Put in the oven for 15/20 minutes (watch for colouring), then leave to cool on a wire rack.
Remarks
For very small turnovers you can roll the large circle of puff pastry out even thinner before cutting out small circles.
---
June 9th 2023.