Milk rolls
A recipe from
cooking-ez.com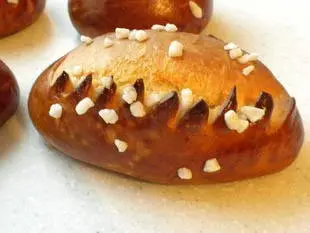 For 16 breads, you will need:
Times:
| Preparation | Resting | Cooking | Start to finish |
| --- | --- | --- | --- |
| 1 hour 11 min. | 4 hours | 20 min. | 5 hours 31 min. |
Step by step recipe
1: Put into a food processor bowl: 500 g flour, 60 g caster sugar, 10 g salt, 15 g yeast, 300 ml whole milk and possibly 100 g fermented viennoiserie dough (for tastier milk rolls).
Be sure to add the milk while it is still cold (straight from the fridge) as this is important for the recipe to work well.
Knead for 8 minutes on slow speed.

Note: For the best way to knead, see: A few tips for effective kneading at home.
2: Add 75 g butter cut into small pieces.
3: Knead for a further 5 minutes or so until the butter is well mixed in.
4: Gather the dough into a ball and leave in a bowl covered with a plastic sheet for 1 ½ hours at room temperature.
5: Then, when the dough is well risen, flatten the ball out roughly on the work surface and cut into pieces of about 70 grammes.
6: Roll these into balls and place on a baking sheet, then cover with a sheet of plastic and put in the fridge for 30 minutes.
7: After this, flatten each ball out with your hand on the work surface...
8: ... and roll inwards to form small baps.
9: Or make them into longer rolls (French bakers call these navettes, or shuttles) by rolling the ball under your hand on the work surface.
10: Put the baps or rolls back onto the baking sheet, but not too close, as they need room to expand.
11: Glaze and leave to rise for 2 hours at room temperature.
After 2 hours, glaze again.
Heat the oven to 200°C (390°F).
12: Just before putting into the oven, snip the tops of the rolls to help them rise during cooking.
Do this with scissors, dipping the blades into water regularly, as shown in the video on the right.
13: Finish with a sprinkling of coarse sugar crystals (or crushed sugar lumps).
14: Bake in the oven for around 20 minutes (watch for colouring).
15: Leave to cool on a wire rack.
Remarks
The sugar topping is not essential, but adds adds a nice finishing touch.
---
November 29th 2020.