Nanou's chocolate cake
A recipe from
cooking-ez.com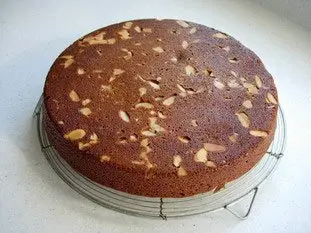 For 1 cake, you will need:
Times:
| Preparation | Cooking | Start to finish |
| --- | --- | --- |
| 50 min. | 55 min. | 1 hour 45 min. |
Step by step recipe
1: Break 200 g chocolate into small pieces, and put them in a pan.
2: Add 200 g butter cut in pieces, cover and put on very gentle heat, or in a bain-marie, to dissolve.
3: When butter and chocolate are melted, mix with a whisk to obtain an homogeneous mixture.
4: Separate whites from yolks of 4 eggs (see how to on this video).
Then add yolks to butter-chocolate mixture...
5: ... and beat well to incorporate.
6: Sieve together 200 g icing sugar, 100 g ground almonds and 75 g flour, to mix.
7: Add these dry ingredients to the butter-chocolate-egg yolks mixture, and mix well.
8: You will obtain a rather stiff mixture, which is normal.
9: Preheat oven to 180°C ou 356°F.
Beat white eggs, and when stiff fold in 50 g caster sugar.
10: Take a few tablespoons of egg white, and put them onto mixture.
11: Incorporate these tablespoons of egg white into the mixt, to lighten it a little.
12: Pour this "lightened" mixture into remaining egg whites.
14: Incline the bowl to facilitate your work, you should end up with a mixture...
15: ... that's smooth and very chocolaty.
16: If you like, scatter some flaked almonds in the bottom of cake mould.
17: Then pour mixture in.
18: Put in the oven for 40 to 50 minutes. Check cooking after 30 minutes.
19: Leave to cool on a wire rack.
Remarks
This cake should be very moist, so it's important not to overcook it. Watch carefully towards end of cooking time.
---
September 21th 2019.