Peach and mint salad
A recipe from
cooking-ez.com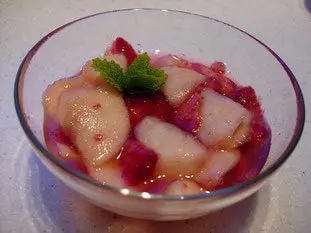 For 6 people, you will need:
Times:
Step by step recipe
1: Roughly cut 1 handful fresh mint leaves with scissors into a cup.
2: Pour on 4 tablespoons of sugar syrup and leave to stand (while preparing peaches) until the syrup takes on the flavour of the mint.
3: Peel and to poach 8 peaches.
4: Over a bowl, take a peach in your hand and cut off small pieces with a knife, without going right to the stone.
We don't use immedieately around the stone as this flesh is less sweet.
5: Do this with all the peaches.
Add juice of 1 lemon and mix well.
If peach salad is to be kept longer than one hour, add 1 pinch vitamin C to prevent browning.
6: Pour mint syrup over peaches through a fine strainer to remove mint leaves which you can discaed.
7: Add more sugar syrup until peaches pieces are well covered.
Cover with plastic film, and keep in the fride until serving.
8: You can serve in individual bowls, with a few mint leaves for decoration.
Remarks
The secret of this recipe is in the quality and flavouro f the peaches, take best flavoured you can find, different kinds if possible: yellow, white, vine, etc.
If you lke a stronger mint flavour, you can make an infusion. For this: put chopped mint leaves in a pan, with sugar syrup, over low heat and bring to the boil. When boiling, remove from heat, cover and leave to cool. Add to peaches through a strainer as in the classic recipe.
---
August 21th 2019.