Pears in red wine with blackcurrant
A recipe from
cooking-ez.com
226K
4.1
February 21
th
2011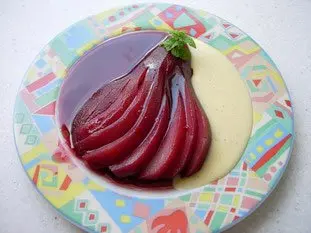 For 6 people, you will need:
Times:
| Preparation | Resting | Cooking | Start to finish |
| --- | --- | --- | --- |
| 55 min. | 1 hour | 40 min. | 2 hours 35 min. |
Step by step recipe
1: In a pan, pour 750 ml red wine, 250 ml Blackcurrant liqueur and 100 g caster sugar.
2: For each pears, one by one: peel, cut in two, remove core and if necessary fiber around tail.
3: Put immediately the half in syrup to prevent from blackening.
Proceed so with all pears.
4: Put pan on low fire, add 1 vanilla pod, and make cook pears uncovered until they are well soft.
Let cool in the syrup, covered this time, if possible during all night.
5: Tomorrow, remove pears from syrup, put in another container, and covered by a half of syrup.
Cover and let wait at ambient temperature.
6: Put back pan on low fire, and make reduce a half volume.
7: When syrup is reduced, pour through a fine strainer, in a smaller pan.
8: Bring to boil and add 2 pinches agar-agar, mix well with a fork, and remove from fire.
Let thicken when cooling.
9: A bit before serving, cut half pears from top to bottom in several thin parts.
10: The goal is not to cut half-part, but to make a kind of hand-held fan, you should start from top but leaving about half inch uncut.
Put a half pear by service plate, and spread cuts to shape the hand-held fan.
11: Fill one plate side with custard sauce (crème anglaise) and the other one with cooking syrup.
Decorate with a mint leaf.
Remarks
If you don't have agar-agar you can use corn-flour instead.
---
June 9th 2023.