Plum and almond panna cotta
A recipe from
cooking-ez.com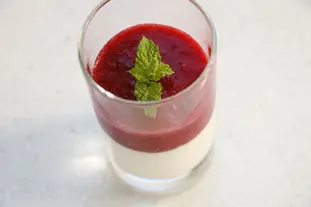 For 6 people, you will need:
Times:
| Preparation | Resting | Cooking | Start to finish |
| --- | --- | --- | --- |
| 10 min. | 3 hours 10 min. | 5 min. | 3 hours 25 min. |
Step by step recipe
1: Put 2 sheets gelatin in cold water to soften.
2: Put into a saucepan: 150 g liquid cream, 150 g almond milk, 25 g caster sugar and 10 g Vanilla sugar.
3: Put on low heat and heat to 140°F (60°C) maximum – do not let it boil.
4: Turn off the heat and add the softened and drained gelatin.
Mix until completely dissolved.
5: Stand the saucepan in cold water to help it cool more rapidly.
6: When the mixture is cold, divide out into small glasses or ramekins.
Refrigerate for at least 3 hours.
7: Prepare 150 g Stewed plums, if not already done.
8: Top the panna cotta with the stewed plums.
If you like, decorate each dish with a small sprig of mint just before serving.
Remarks
This recipe also works well with apricots and almonds. The general idea is to balance the soft sweetness of the almonds with a slightly tart fruit.
You can also make the panna cotta without cream, just using more almond milk instead, but do note that the texture will be quite different and not as, well, creamy.
---
January 26th 2021.