Raspberry tart
A recipe from
cooking-ez.com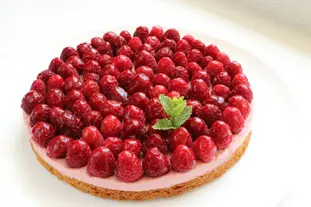 For 1 tart, you will need:
Times:
| Preparation | Cooking | Start to finish |
| --- | --- | --- |
| 1 hour 11 min. | 30 min. | 1 hour 41 min. |
Step by step recipe
1: Prepare 350 g Breton sablé biscuit dough and flatten out into a tart ring 8.5 inches ( 22 cm) diameter.
2: Bake at 360°F (180°C) for 25 minutes.
3: Turn out and leave to cool on a wire rack.
4: Melt 30 g white chocolate over a bain-marie.
5: Use a brush to coat the top of the tart base with a thin layer of melted white chocolate.
6: Prepare 400 g Fruit crémeux with raspberries and pour into a dessert ring 8.5 inches (22 cm) diameter.
Leave to cool.
7: Place the sablé base chocolate side downwards on top of the set crémeux.
8: Place a large plate on top to make turning over easier...
9: ...and turn the whole lot upside down.
Transfer onto the serving plate and remove the ring.
10: Arrange a layer of raspberries on the tart, then brush with an apricot glaze.
11: Your superb raspberry tart is ready.
Remarks
A different method: at
stage 6
, you can pour the crémeux directly onto the pastry base, protected as before with a thin layer of white chocolate, and sitting in a dessert ring (taller than a tart ring).
With the same basic idea, you can vary this recipe using other fruit.
---
June 9th 2023.