Strawberry-mint sorbet
A recipe from
cooking-ez.com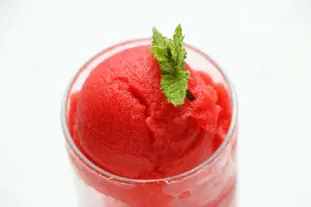 For 800 ml, you will need:
Times:
| Preparation | Resting | Start to finish |
| --- | --- | --- |
| 26 min. | 12 hours | 12 hours 26 min. |
Step by step recipe
1: Hull 500 g strawberries (remove the green calyx and any hard bit underneath) and put into a high-sided container.
2: Add 1 handful fresh mint leaves, 2 g vitamin C and the juice of ½ lemon.
3: Blend thoroughly.
4: Lay plastic film on the surface of the coulis and refrigerate for at least 2 hours, ideally overnight, so that the flavours can mingle fully.
5: After this time, pour the coulis through a sieve placed over a bowl and use a soft spatula to push the coulis through.
6: There should only be the strawberry seeds left in the sieve.
7: Add 400 g Sugar syrup to the coulis (about the same weight of syrup) and mix well.
8: Transfer to an ice-cream maker and leave to churn.
As always with ice creams and sorbets, the best moment is when it comes out...
Remarks
You will find more information here about making
ice-creams and sorbets
.
---
July 10th 2020.