Strawberry-mint sorbet
---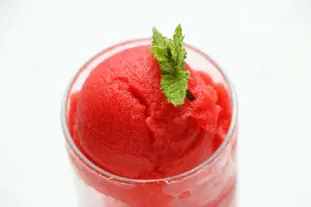 For this strawberry and mint-flavoured sorbet, we will be using an unusual method: blending the strawberries with mint leaves.

This mixture is then left overnight for the flavours to mingle before being strained and then churned.

This makes a delicious sorbet with its full-on strawberry flavour boosted by a definite mintiness.
Last modified on: August 13th 2017
Keywords for this recipe:
Ice-cream
Sorbet
Strawberries
Mint
Lemon