Strawberry Verveine Tart
A recipe from
cooking-ez.com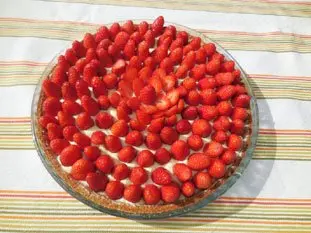 For 1 tart, you will need:
Times:
Preparation
1 hour 31 min.
Step by step recipe
1: Line the tart mould or tin with 300 g Sweetcrust pastry (pâte sablée) and bake "blind".
2: Coat the inside with white chocolate. This is not essential, but helps to keep the pastry crisp for longer.
4: Prepare the confectioner's custard (crème pâtissière, or french pastry cream).
5: When the custard has cooled, beat in 2 tablespoons verveine liqueur using a whisk.
6: Tip the chantilly cream into the custard...
7: ... and fold in gently with a soft spatula to make a light cream.
8: Spread the cream in the bottom of the tart case (use a forcing bag if possible to make this easier).
9: Then top with strawberries, pressing them a little way into the cream to hold them in place.
Keep in the fridge, but leave at room temperature for 30 minutes before serving.
Remarks
Verveine liqueur is made with lemon verbena. For a non-alcoholic version, you can flavour the confectioner's custard by leaving the fresh herb to infuse in the milk.
---
September 25th 2021.