Toffee apple upside-down cake
A recipe from
cooking-ez.com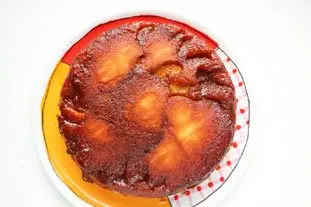 For 1 cake, you will need:
Times:
| Preparation | Cooking | Start to finish |
| --- | --- | --- |
| 39 min. | 1 hour 7 min. | 1 hour 46 min. |
Step by step recipe
1: Use a spring form tin if possible and lay a sheet of cooking parchment in the bottom to stop the caramel sticking too much.
Note: if you use a non-stick mould, this still helps, but otherwise it is essential for turning out the cooked cake.
2: Put into a food-mixer bowl: 3 eggs, 150 g flour, 150 g butter, 140 g caster sugar and 10 g Vanilla sugar.
3: Beat until evenly mixed.
Set aside at room temperature.
4: Pour 150 g caster sugar and 4 tablespoons water into a small saucepan and put on high heat.
5: Cook the sugar to the light caramel stage.
6: Take the saucepan off the heat and add 30 g liquid cream while beating with a whisk. Do be careful as the hot caramel might well spit as you add the cold cream.
7: Pour the caramel onto the paper circle in the tin.
8: Spread evenly over the whole surface.
Preheat the oven to 360°F (180°C).
9: Peel 1 kg apple, cut into quarters and remove the core (slice again if the apples are large). Arrange the apple quarters in rings on top of the caramel.
10: Spread the cake mixture evenly over the apples.
11: Bake for 50 minutes to one hour.
12: Turn the cake out as soon as it comes out of the oven (before the caramel has time to cool and stick to the tin).
This cake can be eaten warm or cold, as you prefer.
Remarks
It is important to use fairly tart apples (Bramley, Cox's, reinette, boskoop...) to contrast with the sweetness of the caramel and cake mixture.
---
May 20th 2019.