Warm apple feuillantines
A recipe from
cooking-ez.com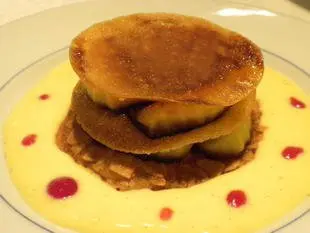 For 6 people, you will need:
Times:
| Preparation | Resting | Cooking | Start to finish |
| --- | --- | --- | --- |
| 2 hours 40 min. | 10 min. | 19 min. | 3 hours 9 min. |
Step by step recipe
1: The day before, make the almond tuiles, they should be 10 cm - 4 inches diameter, and as thin and rounded as possible.
2: Peel 1 kg apple, cut into four, remove core and cut each quarter in two or three again.
Your should aim to get thinnish apple slices of very regular size.
3: In a frying pan over medium heat, put 30 g Clarified butter and sprinkle with sugar. When sizzling, add apple slices and sprinkle with more sugar.
When apples are lightly coloured, turn over and sprinkle with sugar again.
When slices are golden brown, add the ½ glass Calvados and set alight ("flambé").
Set aside on a plate. The apples should not be overcooked.
4: With a cutter or knife and template (bowl, small saucer, ...) cut out 2 circles by guest (+ 2 just in case), 10 cm - 4 inches diameter from the brik or filo pastry sheets.
5: Put 100 g caster sugar onto a plate, melt 30 g Clarified butter in a bowl. Turn on your grill.
With a brush dipped in butter, coat a brik circle both sides.
6: Then dip it in sugar on both sides...
7: ... and put on a non-stick baking sheet.
Do this for all the circles.
8: Put the baking sheet under the grill, and grill the circles both sides, until they are golden brown.
9: Leave to cool on a wire rack.
10: You can store these circles in a sealed box in the fridge, with sheets of cooking paper between them, for a few days.
Note: be careful as the circles are very flimsy and should be manipulated with a metal spatula or slice.
11: Making your dessert, everything follow should be made at the last time:
Reheat the apple slices.
On each serving plate put an almond tuile, add a layer of apple slices.
12: Then a brik circle.
13: Another apple layer.
14: And finally the last brik circle.
Pour custard (crème anglaise) around your work of art, possibly with some red fruit coulis drops.
Add a rosette of whipped cream on top, preferably with a forcing bag, or as a "quenelle" formed with two teaspoons.
Serve without delay.
Remarks
If you don't have Calva, use rum instead.
---
November 13th 2019.