Croque-monsieur gourmand
A recipe from
cooking-ez.com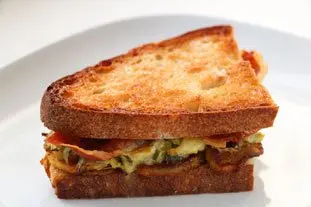 For 4 pieces, you will need:
Times:
| Preparation | Cooking | Start to finish |
| --- | --- | --- |
| 24 min. | 47 min. | 1 hour 11 min. |
Step by step recipe
1:

Prepare the bread


Prepare 8 slices bread. If you are using a sandwich-type loaf or long French-style bread stick, leave the slices whole. If using a larger loaf, cut the slices in half (like in the photos).
2: Melt 40 g butter, then use a brush to coat one side of the bread with melted butter.
Arrange the slices on a baking sheet, buttered side downwards.
4: Prepare 1 shallot and chop finely.
Pour 3 tablespoons olive oil into a large frying pan and when really hot, add the chopped shallot, salt and pepper.
Cook for 1 minute without colouring.
5: Add the chopped leeks, salt and pepper again and mix well.
Cook for 1 or 2 minutes covered...
6: ...then add 150 ml cream and leave uncovered on low heat to reduce.
7: You should end up with a creamy leek "fondue" of fairly thick consistency.
Set aside.
8:

Fry the ham


Fry 4 slices smoked ham for 1 or 2 minutes on each side until nicely browned.
Set aside.
9:

Fry the potatoes


Slice 250 g cooked potato into thin rounds and pan-fry on both sides in 4 tablespoons olive oil.
10:

Assemble the croque-monsieurs

Preheat the oven at 390°F (200°C).
Arrange a layer of fried potatoes on half the slices of bread.
11: Top with a layer of creamed leeks.
12: Then a slice of fried ham.
13: Finish by adding a second slice of bread, buttered side outwards.
14:

Brown the croque-monsieurs


Cook the corque-monsieurs in the oven for about 20 minutes until the bread is nicely browned on top.
15: Serve piping hot on its own or with a little lettuce "chiffonade".
Remarks
You can use grilled bacon or fried lardons instead of the ham, if you prefer.
---
December 16th 2019.