Leek fondue
---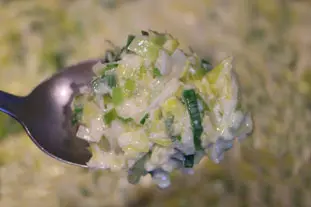 Leek fondue (literally "melted") consists of finely sliced leeks cooked until barely tender then simmered gently in cream until thickened.

The aim is to keep the fresh green of the just-cooked leeks but with a lovely soft, melting consistency.

This can be a side dish or an ingredient in lots of different recipes.
Last modified on: March 4th 2020
Keywords for this recipe:
Leek
Fondue
Melted
Vegetable
Cream