Eggs Comtoise
A recipe from
cooking-ez.com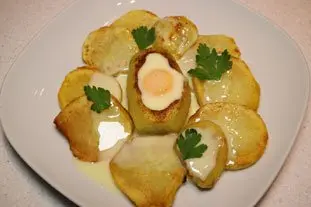 For 4 people, you will need:
Times:
| Preparation | Cooking | Start to finish |
| --- | --- | --- |
| 20 min. | 20 min. | 40 min. |
Step by step recipe
1: Prepare one potato per person: hollow out the centre using a pommes parisiennes spoon or a teaspoon to create the "nest". Trim off the ends if necessary to tidy the shape.
2: Slice the rest of the potatoes.
3: Pan-fry the potato slices on both sides in a little olive oil, then salt and set aside and keep hot.
4: Fry the potato nests until browned all over.
Heat 250 g cancoillotte in the microwave or in a bain-marie.
5: Heat the plates.
Stand a nest in the centre of each hot plate and surround with the fried potato slices.
Slip an egg yolk into each nest and salt lightly.
6: Fill up the nests with hot cancoillote and pour a little over the potatoes. Serve immediately.
Remarks
If you don't have any cancoillote, use any other cheese you like (but preferably a soft cheese) and melt it in a little cream.
You may be surprised to see that the egg yolk is not heated beforehand, but it will heat through when in contact with the hot potato and cheese.
---
May 26th 2020.