French-style peas
A recipe from
cooking-ez.com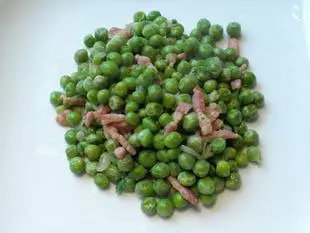 For 4 people, you will need:
Times:
| Preparation | Cooking | Start to finish |
| --- | --- | --- |
| 17 min. | 11 min. | 28 min. |
Step by step recipe
1: Prepare 1 spring onion (scallion) and chop finely.
2: Heat 1 tablespoon olive oil in a non-stick pan then add 150 g small pieces of bacon and fry lightly.
3: Remove the fried bacon and set aside, but leave the fat in the pan. Add the onion, salt and pepper.
Cook for 1 or 2 minutes without colouring, then drain the cooked onion and set aside.
4: Bring a large pan of salted water to the boil. Shell 800 g peas and boil for 2 or 3 minutes just until nicely tender.
(The French call this "English cooking" - ironic in this recipe!).
5: Drain the peas and cool them rapidly under cold running water.
6: Melt 40 g butter in a saucepan on medium heat, then add the peas.
7: Add the bacon and onion, mix well and just heat through. Check the seasoning and it's ready.
Remarks
If you are using frozen peas, only use half the weight and cook for a little longer. Taste to check when they are done.
---
May 18th 2022.