Gnocchi alla romana
A recipe from
cooking-ez.com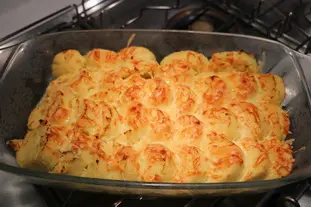 For 6 people, you will need:
Times:
| Preparation | Resting | Cooking | Start to finish |
| --- | --- | --- | --- |
| 29 min. | 2 hours | 30 min. | 2 hours 59 min. |
Step by step recipe
1: Put a large pan on medium heat and add 1 litre whole milk, 80 g butter, salt and pepper.
2: Heat until just simmering and the butter is completely melted.
3: In a bowl, use a whisk to mix together 250 g couscous (fine or coarse), the grated 100 g Parmesan (Parmigiano Reggiano) and ½ teaspoon grated nutmeg.
4: Tip this mixture into the hot milk off the heat, and mix with a whisk.
5: Add 2 egg yolks, still whisking.
6: Put back on low heat and continue whisking until smooth.
Change the whisk for a soft spatula and keep the pan on low heat for a further 3 or 4 minutes to dry the mixture out.
7: Take off the heat and transfer about a third of the mixture onto a sheet of stretch plastic film. Leave to cool for 5 minutes.
8: Roll up in the film and shape into a sausage about an inch and a half (4 cm) thick. Tie the ends with string.
9: Use up the rest of the gnocchi mixture like this. Lay the sausages on a baking sheet and refrigerate for about 2 hours.
10: Preheat the oven to 360°F (180°C).
Generously butter a gratin dish.
11: Take the plastic film off the dough sausages...
12: ...and cut into thick slices.
13: Arrange in the dish, slightly overlapping.
14: Scatter the grated 50 g Comté cheese over.
15: Bake for 20 minutes, with the last 5 minutes on grill setting to brown the top.
Your gnocchi are ready to enjoy.
Remarks
You can use a different hard-paste cheese, such as Cantal or Cheddar instead of Comté.
---
December 8th 2023.