Kérinou slices
A recipe from
cooking-ez.com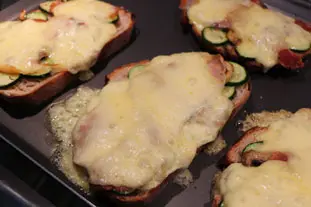 For 4 slices, you will need:
Times:
| Preparation | Cooking | Start to finish |
| --- | --- | --- |
| 32 min. | 26 min. | 58 min. |
Step by step recipe
2: Pour 3 tablespoons olive oil into a frying pan on high heat.
When really hot, add the courgette slices and sauté for a few minutes.
After cooking, they should still be reasonably firm. Salt, pepper and scatter with thyme. Set aside.
3: Peel then chop 200 g mushrooms.
Coarsly chop the parsley leaves.
Peel, rinse, then chop 1 spring onion (scallion) finely.
4: Pour 3 tablespoons olive oil into the same pan as before on high heat. When hot, add the chopped onion.
Cook for 1 minute without colouring.
5: Add the chopped mushrooms and mix well...
6: ...then sauté for a few minutes. The mushrooms should just begin to brown.
7: At the end of cooking, salt and pepper then add the chopped parsley.
Take off the heat and set aside.
8:

Prepare and cook the slices

Preheat the oven to 360°F (180°C).
Lay 4 slices bread on a baking sheet.
9: Divide the courgettes between the slices...
10: ...then add the mushrooms...
11: ...and top with the ham and cheese cut into slivers.
12: Cook in the oven for 10 to 20 minutes, until the cheese has melted and is starting to brown.
Serve immediately.
Remarks
Kérinou is a district of Brest, in the Brittany region of northwest France. In keeping with the spirit of the recipe, try to use a French "tome" cheese if possible, preferably from Brittany.
If you like a little more crunch, you can toast the bread before adding the toppings.
---
May 27th 2020.