Small green vegetables in Mornay sauce
A recipe from
cooking-ez.com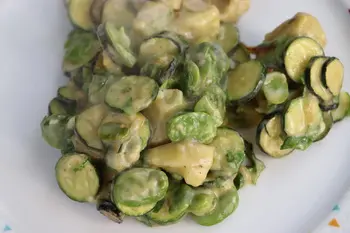 For 4 people, you will need:
Times:
| Preparation | Cooking | Start to finish |
| --- | --- | --- |
| 46 min. | 11 min. | 57 min. |
Step by step recipe
1: Cut 4 artichokes heart into small pieces.
You can use small purple artichokes (as in the photo), or classic artichokes.
Set aside.
2: Prepare and cook 400 g broad beans.
Reserve.
5: In a large saucepan over high heat, pour in 4 tablespoons olive oil and when hot, pour in the zucchini.
6: Sauté until zucchini is cooked but still barely firm.
Season with salt and pepper and transfer to a plate.
7: Return the pan to the heat, pour in 3 tablespoons olive oil, then when hot, add the chopped shallot.
Season with salt and pepper, and cook for 1 minute without browning.
8: Add the broad beans and artichoke...
9: ...then the zucchinis.
Heat the mixture, stirring a little.
10: Make or reheat 200 g Bechamel sauce, and add 50 g grated cheese to make the Mornay sauce.
Add the vegetable sauce, chopped parsley, and mix quickly one last time.
11: Your vegetables are ready.
Remarks
Vegetables can easily be changed for this recipe, so don't hesitate to adapt according to your tastes and the season.
If you're a gourmand, don't hesitate to increase the weight of grated cheese in the béchamel sauce, for a richer Mornay sauce...
---
December 8th 2023.