Tartine du pêcheur
A recipe from
cooking-ez.com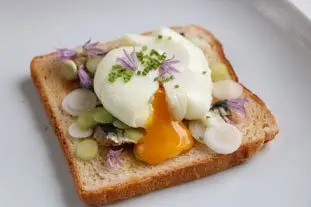 For 4 people, you will need:
Times:
Step by step recipe
1: Lightly toast 4 slices bread.
Arrange the sardine fillets on each slice and squeeze a little lemon juice over.
2: Add some thin slices of spring onion.
3: Just before serving, top with a poached egg, then salt and pepper lightly.
Scater a few chopped chives over, both leaves and flowers.
4: To enjoy this tartine at its best, the toast and egg should still both be hot when served.
Remarks
Translator's note: the title might have been translated as "fisherman's toast" but that's what some folks call eggy bread (which is "soupe dorée" to the French). This is a classic "tartine" that can be found in many different versions, so I preferred to keep the French name.
---
December 8th 2023.