Tomato feuilleté with pesto
A recipe from
cooking-ez.com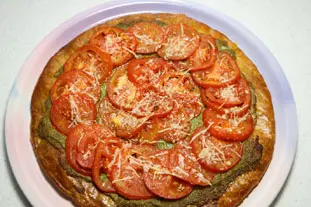 For 1 , you will need:
Times:
| Preparation | Cooking | Start to finish |
| --- | --- | --- |
| 46 min. | 13 min. | 59 min. |
Step by step recipe
1: Cook the puff pastry as a "feuilletage", as explained here, but unsweetened and simply glaze.
Set aside.
2: Cut the hard stalk end out of 1 kg tomatoes.
3: Slice the tomatoes evenly (a mandolin is ideal for this).Salt the tomatoes on both sides and arrange on a wire rack (or several).
Leave to drain for at least 30 minutes.
4: Pour 4 tablespoons olive oil into a large frying pan on high heat.
When really hot, add the tomato slices and sauté rapidly for just 30 seconds on each side.
Sauté all the tomatoes in batches, then set aside.
5: Preheat the oven to 390°F (200°C).
Once the feuilletage has cooled, spread thinly with an even layer of pesto (a palette-knife is the best tool for this).
6: Arrange the tomato slices evenly on top.
7: Top with a little grated Parmesan.
8: Bake for 10 minutes, more to heat through than cook properly.
Serve warm or cold.
Remarks
Just before servimg, you can drizzle a little
herb olive oil
over the top, if you wish.
---
September 27th 2020.